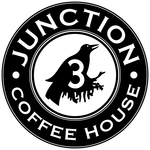 JUNCTION 3 | OSOYOOS
Not just coffee
WE'RE HERE TO BREW FOR YOU!
JUNCTION 3 – Brew with the best in Osoyoos
There's brews of all kinds, dark brews, light brews, that haven't had enough coffee kinda morning brews, because lets face it, those mornings happen!
All this happens in our little part of beautiful Osoyoos BC.
A yawn is a silent scream for Coffee!
Luckily, J3 will be serving all the classics such as amazing drip Coffee, Espresso, Macchiato's, Latte's and everyone's favourite Americano's
If you're a sweet-tooth never fear! We have Mocha's, Caramel & Hazelnut Macchiato's, Hot Chocolate's and if you dare! Add your own syrups and make your own creation! Our talented Barista's are eager to get to work!
We're all about safety!
The more you weigh, the harder you are to kidnap…
so stay safe & eat cake!
We are all locals that love and appreciate our beautiful town full of wonderful amazing people! We have a passion for the finer things in life and value simplicity over complexity. We are active in our local community and participate in and advocate for any community projects and associations that make our small town a better place for all! To put it simply…. We care!